Filing a Fair Housing Complaint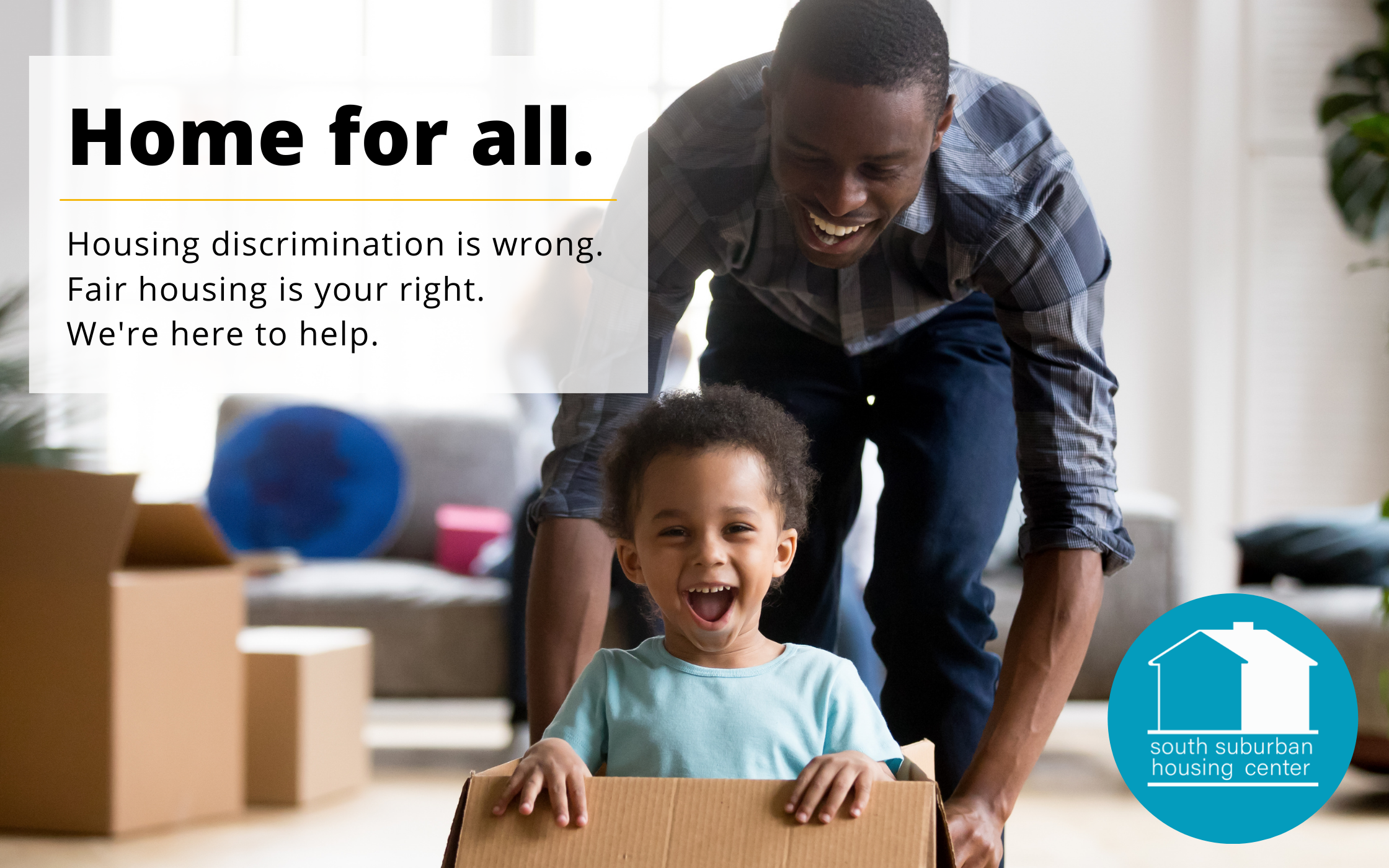 South Suburban Housing Center (SSHC) is a private, non-profit, regional fair housing and housing counseling agency serving over 100 communities in southern Cook, northeastern Will, and Kankakee counties of Illinois. Our fair housing enforcement activities also extend to Grundy and Iroquois Counties in Illinois, Lake County in Indiana, as well as several central Illinois cities including Champaign-Urbana, Danville, Decatur, LaSalle-Peru, Peoria, Bloomington-Normal, and Springfield.
Who is protected from housing discrimination?
The Fair Housing Act and other state and local laws make it illegal to discriminate during a housing transaction based on your protected class status. You can view examples of prohibited acts here. Below is an overview of federal, state, and local protected classes; view the full list here.
Federally Protected Classes
Race

Color

National Origin

Religion

Sex (including sexual orientation and gender identity discrimination, and sexual harassment)

Familial Status

Disability
Illinois Human Rights Act Protected Classes
All Federally Protected Classes (see above)

Age

Ancestry

Marital Status

Sexual Orientation (including gender identity)

Order of Protection Status (for victims of domestic violence)

Unfavorable Military Discharge

Military Status
Cook County Human Rights Ordinance Protected Classes
All Federally Protected Classes (see above)

Age

Ancestry

Marital Status

Parental Status

Sexual Orientation

Gender Identity

Source of Income (including section 8/housing choice voucher holders)

Military Discharge Status

Housing Status

Criminal History (learn more about the Just Housing Amendment)
Do you "feel" or "sense" that you have been treated unfairly by a housing provider, lender, realtor, or insurer?
If you think that you may be the victim of a fair housing violation, we suggest that you contact us directly and report the alleged unfair treatment. SSHC will promptly advise you or begin an investigation of your complaint, keep you apprised of its progress, act quickly to advise you of your options once findings are made, assist you in the filing of an administrative or court complaint, or report back to you the nondiscriminatory reasons found for the actions you experienced.
Get in touch with us to discuss your options:
Contact our Fair Housing Intake Specialist at (708) 957-4674 ext. 108 or fill out the following contact form. Be sure to choose "File A Complaint: Fair Housing/Fair Lending Discrimination" for the topic. This form is meant for you to virtually start the process of receiving our fair housing services and submission does not mean you have officially filed a fair housing complaint.