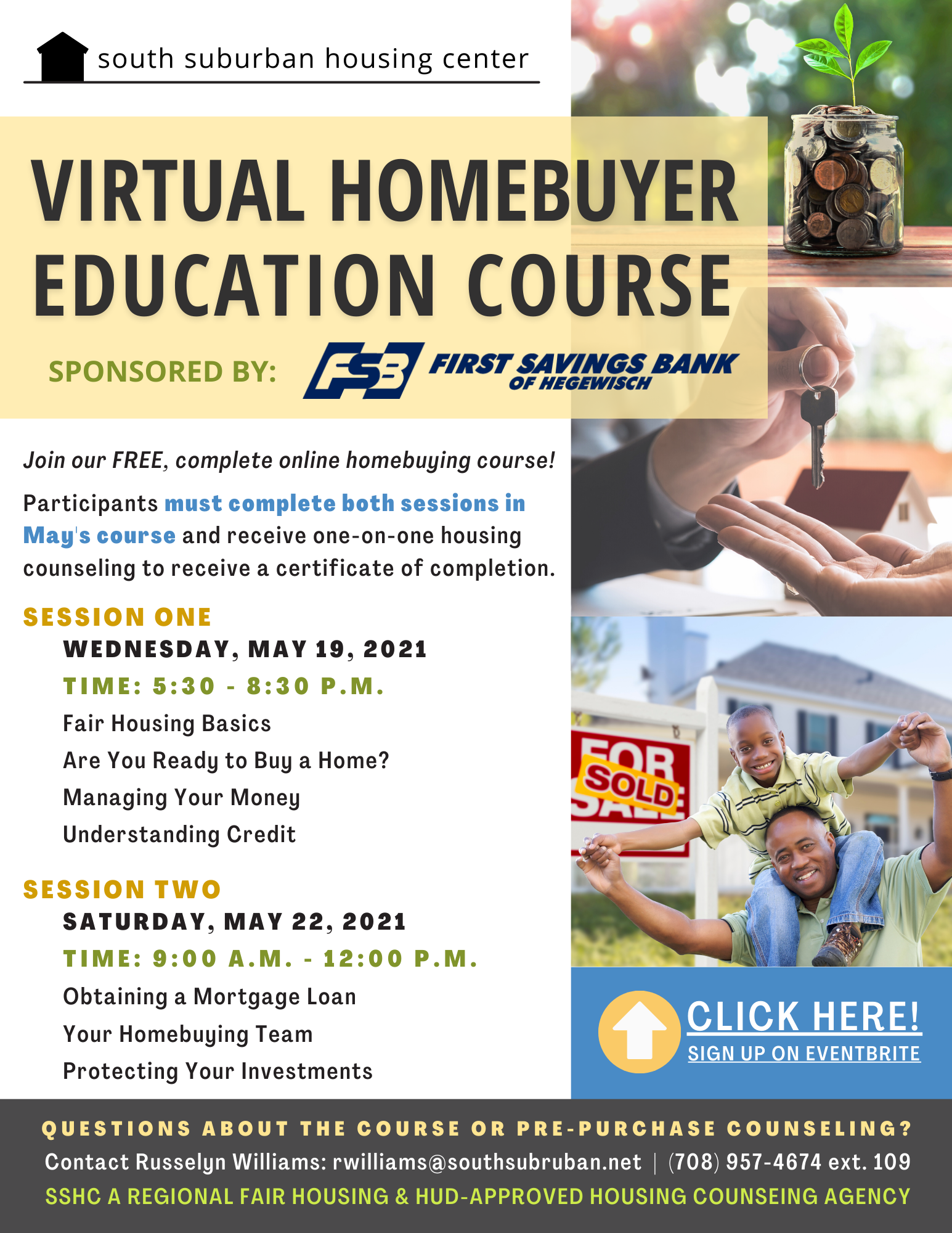 You asked, we listened! Introducing our online homebuyer's education course!
Participants must attend both sessions to complete the course.
REGISTER: https://www.eventbrite.com/e/may-virtual-homebuyer-education-course-tickets-152916127253
THINGS TO KNOW:
– Participants MUST complete both online sessions and receive one-on-one housing counseling to receive a certificate of completion.
-Both sessions of our Virtual Homebuyer Education Course will take place on Zoom. 24 hours prior to session one, you will be emailed the registration link to access the Zoom meeting. Be sure to check your junk and spam folders for an email from SSHC via Eventbrite! The Zoom registration link will also be on our event page at that time.
You must attend both the Wednesday and Saturday sessions in order to complete the course. A certificate of completion can be obtained by working with our prepurchase counselor.
The SSHC Team
Questions? Contact us:
Mackenzie Dye | (708) 957-4674 ext. 108 | mackenzie@southsuburban.net
Russelyn Williams | (708) 957-4674 ext. 109 | rwilliams@southsuburban.net
Kiturah Baker | (708) 957-4674 ext. 102 | kbaker@southsuburban.net
Tonisha Brown | (708) 957-4674 ext. 103 | tbrown@southsuburban.net
Disclaimer: SSHC is a nonprofit, HUD-approved, comprehensive housing counseling agency. We serve all clients regardless of income, race, color, religion/creed, sex, national origin, age, family status, disability, or sexual orientation/gender identity. We administer our programs in conformity with local, state, and federal anti-discrimination laws. As a housing counseling program participant, you are not obligated to use the products and services of SSHC or our industry or financial partners. Upon request, SSHC can provide a list of industry and financial partners.
---
 Our HUD-approved counselor will help you learn what it means to be a successful homeowner.
During the in-depth class, we will cover topics such as:
Assessing Homeownership Readiness
Budgeting and Credit
Financing a Home
Shopping for a Home
Protecting Your Investments
And More!
If you or loved ones are considering purchasing a home, make sure you have the tools and knowledge to be prepared!
---
Interested in substituting an online course for the group class?
Click here for more information
(Note: This option has a fee and does not replace the 1-on-1 session required for certification.)