The Chicago Freedom Movement
1965-1966
.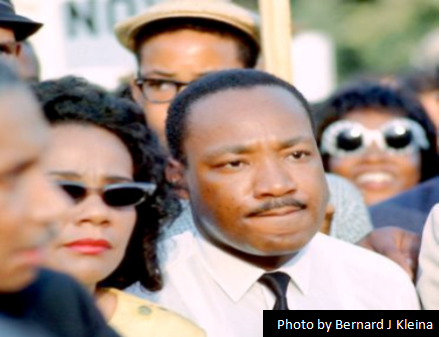 Find out how you can see this exhibit below!
In celebration of the 50th Anniversary of the Fair Housing Act, in 2018 South Suburban Housing Center will be working with various local municipalities & organizations to display the rare and powerful Chicago Freedom Movement Photography Exhibit by Bernard Kleina.
The photography exhibit tour has concluded, however below you can find more information about the photographer, the history behind the movement, and the fair housing act.
More Information
The Chicago Freedom Movement Photography Exhibit is a small but revealing snapshot of Dr. Martin Luther King's visit and marches in Chicago, and of both the ugliness and beauty of the response to open housing by the people of Chicago. In remembrance and celebration of the Chicago Freedom Movement's fight for fair housing, Bernard J. Kleina assembled his rare and historic color photographs that depict that struggle. The photography exhibit reminds us that we still have a long way to go before we achieve what Dr. King fought for and what we are fighting for now – open and fair housing and an end to racial and ethnic segregation.
An Interview with the Photographer:
 .

What was the Chicago Freedom Movement?
The Chicago Freedom Movement was led by civil rights advocates and sought to end slums in the city and fight racial inequality in housing. Although its main front was open housing, leaders asserted that this inequality also extended to the quality of education, transportation,  job access, and other aspects that affect quality of life.  In 1966, Dr. King  traveled to Chicago to join in the movement and participated in rally's and marches that often took place in front of real estate offices and in predominantly white neighborhoods. The opposition to these peaceful protests was shockingly fierce. As King would later tell reporters, "I've been in many demonstrations all across the South, but I can say that I have never seen — even in Mississippi and Alabama — mobs as hostile and as hate-filled as I've seen here in Chicago."
 .

What is the Fair Housing Act?
The Fair Housing Act protects people from discrimination when they are renting, buying, or securing financing for any housing. The Act specifically  prohibits discrimination because of race, color, national origin, religion, sex, disability and the presence of children. The Fair Housing Act was passed 50 years ago.  A driving force behind its passing was the assassination of Dr. King,  which caused an eruption of turmoil in cities all across the United States. This historic and tragic moment gave civil rights advocates the leverage necessary to convince congress to take action against discrimination and inequality; and on April 11th 1968, the bill was signed by President Johnson, furthering the mission and dream of the late Dr. King.
 .

What should I do if I feel my rights have been violated?
South Suburban Housing Center is a non-profit, regional, HUD approved fair housing and housing counseling agency. As a part of our mission, we seek to promote and foster long term diversity by working to eliminate all forms of discrimination and exploitation in the housing market. Should you "feel" or "sense" that you have been treated unfairly by a housing provider, lender, or insurer, we suggest that you contact us directly and report the alleged unfair treatment.
Display Schedule
January 13th, 10am-12pm, (Saturday); Colin Powell Middle School, 20600 Matteson Ave, Matteson, IL – Hosted by the Village of Matteson as a part of their Black History Expo (Flyer)
January 15th, 10am (Monday): South Suburban College, 15800 State St, South Holland, IL – Hosted by Thornton Township as a part of their MLK Celebration (Flyer)
January 16th – 24th, South Suburban College, MB Financial Bank Room, 1st Floor, 15800 State St, South Holland, IL – An open exhibit hosted by the college. (Press Release)
February 10th, 11am (Saturday); Richton Park Community Center, 4455 Sauk Trail, Richton Park, IL – Hosted by the Village of Richton Park as a part of their Black History Event. Photographer Bernard Kleina will be the guest speaker at this event. (This event is free and open to the public) (Flyer)
February 12th-16th, Village of Matteson, Village Hall, 4900 Village Commons, Matteson, IL
February 17th, 3pm, (Saturday); Woodland Community Church, 18301 Governors Highway Homewood, IL – HF Inspirational Voices presents a Black History Month Concert (Flyer)
February 24th, 3-5pm, (Saturday); Faith United Methodist Church, 15015 Grant St, Dolton, IL – Hosted by The Village of Dolton as a part of their Black History Month Event (This event is free, but a ticket is required. Click here for details)
February 26th- March 2nd, Village of Dolton, Village Hall, 14122 Chicago Rd, Dolton, IL
April 2nd – 6th, Village of Park Forest, Village Hall, 350 Victory Dr., Park Forest, IL
April 12th, Flossmoor Country Club, 1441 Western Ave, Flossmoor, IL – SSHC Fair Housing Achievement Awards – Ticked Event (click here for more details)
April 21st, 5:30pm (Saturday); Evening, Rich South High School, 5000 Sauk Trail, Richton Park, IL – Hosted by South Suburban Diversity Dinners (Flyer)