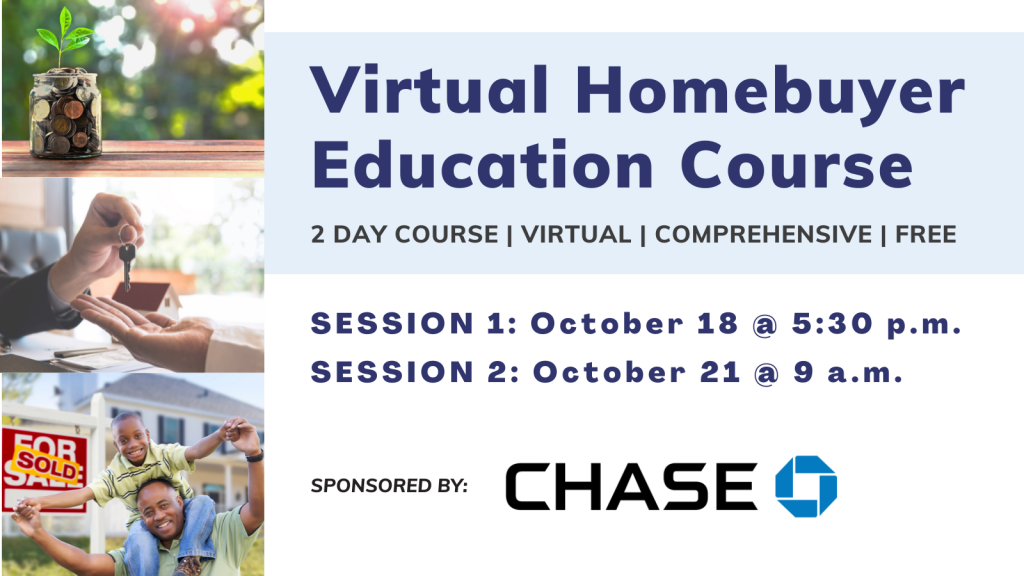 Join our next Virtual Homebuyer Education Course
Did you know that SSHC provides monthly virtual comprehensive homebuyer education courses that are free to attend?
Regardless of where you are in the home purchase process, all are welcome to attend and learn what it takes to succeed at homeownership. Our course is taught by SSHC HUD-Certified Housing Counselors, ready to answer your biggest questions. The course is conducted over two 3-hour sessions.
South Suburban Housing Center is an Illinois nonprofit organization and our services are free.
Course registration is on Eventbrite
Following your Eventbrite registration, you will receive an email with the Zoom link to join. The link will also be available on the Eventbrite Online Event Page available to registrants. Our event will take place as a meeting to keep the class interactive. Bring your questions!
Or, contact Russelyn Williams (708) 957-4674 ext. 109 or rwilliams@southsuburban.net
2023 Course Schedule:
October 18 & 21
November 15 & 18
December 13 & 16
Our Comprehensive Course Covers:
Homeownership Readiness
Money Management & Credit
Obtaining a Mortgage Loan
A panel of Homebuyer Team experts ready to answer your questions
How to Protect Your Investment
Fair Housing Rights
Requirements for Completion:
Participants MUST complete both online sessions and receive one-on-one housing counseling.
Certificates of Completion are provided at your lender's request and only after your executed contract is submitted to SSHC.
Prefer to take the course on your own schedule?
You can receive Online Homebuyer Education through our E-Home America website.
This course has a fee and does not replace the One-on-One counseling required for certification.
DISCLAIMER:
SSHC is a nonprofit, HUD-approved, comprehensive housing counseling agency. We serve all clients regardless of income, race, color, religion/creed, sex, national origin, age, family status, disability, or sexual orientation/gender identity. We administer our programs in conformity with local, state, and federal anti-discrimination laws. As a housing counseling program participant, you are not obligated to use the products and services of SSHC or our industry or financial partners. Upon request, SSHC can provide a list of industry and financial partners.